| | |
| --- | --- |
| choose a sub category below: | |
| | |
Keyed Drive Wheels
Custom Size Drive Wheels with Keyways
All Drive Wheels are Made in the USA
---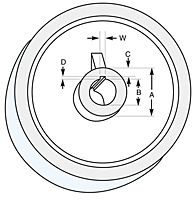 ---
Industrial drive wheels are used throughout the industry. The applications are varied, but all involve fixing a wheel to a shaft. The most common means of securing a wheel to a shaft is with a keyway and/or setscrews. Other set-ups include tapered locking bushing, welding, interference fit, nuts and bolts, and cotter pins.


Keyways can be machined in most wheel sizes. The wheel hub diameter must be large enough to allow 1/4" of metal between the hub outside diameter and the bottom of the keyway. Because of the extra stress involved with keyed wheels, capacity ratings should be reduced by 75%, and our normal warranty does not apply. When ordering, please specify shaft size as well as the width and depth of the desired keyway. The chart at the right shows the standard keyway dimensions of the shaft diameter.
Set screws are also available. Unless otherwise specified, if one set screw is desired, it will be placed over the keyway. If two, the second will be at 90° from the keyway.

CasterHQ Offers Keyways in both Standard and Metric measurements. Cast Iron, Ductile, or Steel Centers are most suitable for keyways wheels. Aluminum can be used but is not recommended due to its weaker structure and is generally used in lighter-duty applications. Drive Wheel applications will generate more stress than a standard wheel. In return, drive wheels treads have a shorter lifespan than a standard caster application.
---
Questions? Please call us @ 844-439-4335 or Contact Us Here.

For quick online service, please email us: sales@casterhq.com and a Caster Expert will help you answer any questions.
---
Due to the vast amount of Key-way Options and Wheel Sizes, we Manufacture these Drive Wheels per order.

Our lead-time
for all Drive Wheels, regardless of quantities ordered, will normally take 2-3 Weeks to ship from when the order is placed.
---