Harbor Freight VS Caster Headquarters | Casters and Wheels
---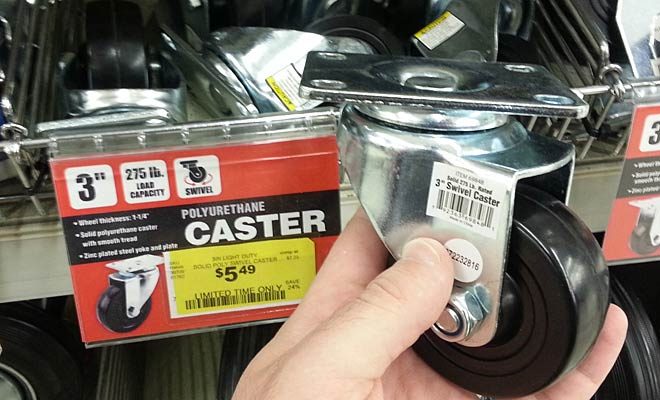 ---
Today's blog we will compare
Harbor Freight Casters and Wheels
with
C
aster Headquarters Casters and Wheels.
We are going to look at the following characteristics to determine which brand is worth buying for your next project.
To begin, Harbor Freights business model is to import the cheapest brands of tools, hardware, equipment, and casters to save the customer the most money while offering a decent selection of tools. Usually, cheaper priced items are generally lower in quality because they bypass many manufacturing procedures as well as safety procedures in order to save as much money as possible. For their casters and wheels, they use thinner gauge steel on many of their caster forks and they use cheaper wheel materials with a chemical or mechanical bond that just doesn't hold up to abuse that an industrial caster can compare to.
Quality Standards:
Harbor Freight:
No information on testing, manufacturing, or quality control.
Caster Headquarters Casters & Wheels:
Manufactured in an ISO:9001 Facility, NSF Approved/Listed, and RoHs Compliant which makes us the clear winner in safety, quality, performance, and longevity to meet all standards in the USA. CasterHQ's Casters are used in the largest Fortune 500 Corporations including GE, GM, Ford, and Toyota to just name a few.
Comparing Warranties:

Harbor Freight offers a 90 day warranty from the date of purchase.
Caster Headquarters offers a
FULL 1 year warranty up to 3 year warranty
depending on the series of casters purchased from us.
Price Point:
Harbor Freight has cheap casters in general with lesser quality, the thickness/gauge of steel is much thinner as well as using single ball raceways in most of their casters compared with double ball raceways which Caster Headquarters uses on all of our caster series. Caster Headquarters uses double welds on the inside and outside on the legs of the forks ensuring a stronger caster fork to prevent bends on impact ensuring our casters handle much higher abusive applications and heavier weight capacities. Many Casters from Harbor Freight has a single weld on the outside of the forks which allows the caster legs to bend much easier with no internal protection causing much more caster failures over time.
Options:
Harbor Freight offers a very limited selection of Casters and Wheel Materials. Caster Headquarters offers a wide variety of Brake Options, Bearing Options, Swivel Locks, Raceway Seals, Toe Guards, and numerous colors, mounting plate sizes, as well as stem sizes and numerous high quality upgrades and customization for any product, application, and industry. CasterHQ has the largest selection of in stock casters and wheels in the world. Our walk-in store gives you access to the widest selection of casters and wheels ready to purchase or we can ship to you the same day.
Availability:
Harbor Freight has a small quantity of Casters and Wheels available in each store. Caster Headquarters stocks thousands of caster and wheel sizes, wheel materials, colors, and upgraded accessories. We have full stock for walk-in business and you can order online and receive same-day shipping + free shipping on all orders over $250+.

Capacities:
Harbor freight offers weight casters that generally don't go over more than 1,250 lbs per caster on their heaviest duty versions while Caster headquarters has a full line of heavy duty casters that can withstand over 70,000 lbs per caster. CasterHQ offers full lines of Casters Made in the USA as well as quality product lines from overseas as well if you are looking at saving money all with much better warranties than Harbor Freight.

Sizes:
CasterHQ offers almost any size Caster from a 1" Caster up to a 25" Caster depending on your application needs. Harbor Freight only offers 3" thru 8" light to general duty casters and some pneumatic casters that are 8" - 12".
Wheel Options and Materials: Harbor Freight offers a few different options wheel materials such as PVC, Rubber, and a light duty Semi Steel Wheel option. Caster Headquarters offers dozens of wheel materials from Ductile Iron Wheels, Steel Wheels, Thermo Rubber Wheels, Mold on Rubber Wheels, Phenolic Wheels, Plastic Wheels, Nylon Wheels, High Temperature Wheels, Polyurethane Wheels including Aluminum Hub Wheels, Stainless Wheels and more.
Overall, if you are looking for a reliable Caster and Wheel, we recommend you buy directly from a Caster and Wheel supplier. We offer the highest quality control standards to ensure that your safety comes first. We source and manufacture products in such large quantities that we are able to offer much better pricing, quality, service, delivery, and a guarantee. Calling a Caster Expert such as Caster Headquarters, you are able to receive expert advice to recommend the best type of Caster and Wheel for your Cart, Equipment, or Application. If you need direct support from our engineers we can connect you to some of the most knowledgeable engineers and sales staff in the industry.
---
| | | |
| --- | --- | --- |
| | VS | |
| CasterHQ Casters | | Harbor Freight Casters |
---
A picture is worth a thousand words. If you are looking for the highest quality caster in the USA, buy from Caster Headquarters to ensure safety, reliability, performance, longevity, and give your self a peace of mind while having the most aggressive looking caster on your cart, equipment, or machine. Our casters will last longer than most of the equipment they will be used on allowing you to save money from having to buy multiple replacements of Casters and Wheels overtime. Shop smart, Save money, save time, save hassle, Shop CasterHQ.